| | |
| --- | --- |
| New 15.6″ touch screenterminals with Windows™ operating system, wifi and ethernet and busfield. We selected a new type of widespread touch screens, easily to find in the market over the world. The key element is the new 3D interface that we intentionally designed as simpler, fast and intuitive as possible.Our systems support the most important and used connection interfaces such as ethernet, wifi, and busfield. In the latter case, we choose the best busfield according his/her needs of the customer's plant. | |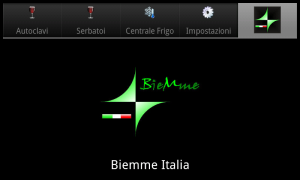 From 2013, Biemme Italia offers cheap 7″ and 10″ touch screens with Android operating system, well suited for remote control of industrial plant with distributed logic. Thanks to these improved touch screens, we keep low the economic demand for such an important element of the industry of the future.
Android, originally derived from Linux, is a well supported and stable operating system. Indeed, many sensor can be connected to this new platform. As of time of writing, Android is the most used mobile operating system in the world, with 75% approximately of market share.
Our aim is to provide the customers the most innovative products at the cheaper cost.