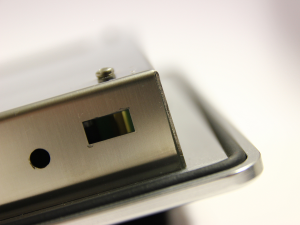 We are proud to announce that a new product has been released on our on line store. It is an Android based touch panel for industrial and home automation HMI projects.
It features a 7″ capacitive multi touch display together with a SoC Samsung Cortex A8 microprocessor running at 1Ghz, 512 MB DDR Ram with many interfaces such as RS485, RS232, I2C, SD, Camera and many more.
The additional feature that distinguishes this touch panel is the full support of Ethernet as well as WAN 802.11 b/g/n networks.
The product comes in two versions:
The Ltouch FW has an anodized and polished 5mm thick frontal frame and rearward cover. Thanks to this layer of protection and a special assembly process, the product has an IP54 frontal ingress protection (dust and water).
The Ltouch SW is a development board that have the same features as the Ltouch FW but it does not have the frontal frame and rear cover protection. This is especially useful when it need to be mounted in an already existing structure.