We are happy to announce that BieMme Italia web site's new sections are now live. The main front page has been redesigned reflecting the new products' categories we offer, namely:
Every section listed above describes the details of the products with pictures, videos and technical specifications. Just check it out and let us know what do you think!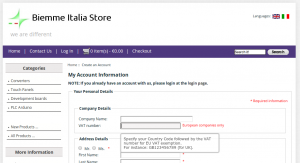 The second news is about the on line store. Starting from January 2014, all the orders from European companies placed in the on line store can benefit from Vat exemption, as long as the company is registered in the European VIES list. Just add your Vat number during the sign in process or specify it under MyAccount/View or change my account information once logged in.