Pltouch
From Biemme Italia Wiki
Introduction
Digital and analog I/O ports that can be used directly from within your Java code. The performance of the new ARM Cortex A8 MCU at 1Ghz (that manages the User Interface) coupled with an ARM M3 (that manages the I/O logic) allows to use this product in many situations where precision, reliability and efficiency are needed.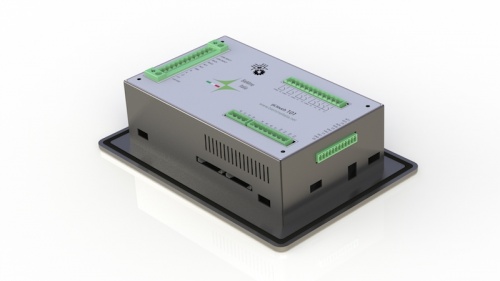 The Pltouch is an HMI with a 7" capacitive touch screen, running Android 4.0 and with additional
The board can be easily used in many fields, from industrial to home automation, from prototyping ideas to concrete projects.
Safety guide lines
Read carefully the safety guidelines and programming instructions contained in this manual before using/ connecting the device. Disconnect power supply before proceeding to hardware settings or electrical wirings. Only qualified personnel should be allowed to use the device and/or service it and in accordance to technical data and environmental conditions listed in this manual. Do not dispose electric tools together with household waste material. In observance European Directive 2002/96/EC on waste electrical and electronic equipment and its implementation in accordance with national law, electric tools that have reached the end of their life must be collected separately and returned to an environmentally compatible recycling facility.
Electrical wirings
Although this controller has been designed to resist noises in industrial environment, please notice following safety guidelines:
Separate control lines from the power wires
Avoid the proximity of remote control switches, electromagnetic meters, powerful engines.
Avoid the proximity of power groups, especially those with phase control.
Technical Specifications
MCU

Samsung ARM Cortex A8, 1Ghz
45nm architecture
512MB DDR2 (supports up to 1GB)
0.65mm pitch, 17x17mm2 FBGA package
32KB data and instruction caches, 512KB L2 cache
64-bit multi buses
powerful built-in PowerVr Sgx 3D graphics engine
supports MPEG4, H.263, H.264 1080P@30fps encode/decode and MPEG4 1080P@30fps decode
up to 80 Mpixels/s Jpeg decoding
HDMI
supports LCD/Camera with MIPI interface

Memory
Flash
Connections

Ethernet
4x USB Host 2.0, support multiple level espansion
USB OTG
2x UART, support flow control
RS485

Video

LCD interface: support different size LCDs on TTL/LVDS
Touch screen interface: support 4/5 lines resistive/capacitive touch sensing
2x Camera interface
HDMI interface

Audio
Power supply

VDC 24 @ 1.5A
Operating temperature -10~70°C
Storage temperature -10~80°C

Ingress Protection Code
I/O
Compared to the Ltouch F or Ltouch FW, the Pltouch has the following additional I/O ports:
12 Digital inputs
8 Relay outputs
4 Analog inputs (0-20ma) with 12 bits resolution
2 Analog outputs (0-20ma, 0-10V) with 12 bits resolution
X1 Connector Specifications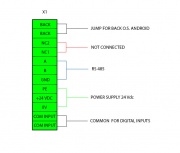 | Pin | Description |
| --- | --- |
| back | jump for back o.s. Android |
| back | jump for back o.s. Android |
| NC2 | not connected |
| NC1 | not connected |
| A | bus RS485(+) |
| B | bus RS485(-) |
| GND | Common RS485 |
| PE | Ground case |
| +24Vdc | Power supply pLtouch |
| 0V | Power supply pLtouch |
| COM INPUT | Common input for digital inputs |
| COM INPUT | Common input for digital inputs |
The figure on the right contains the pin numbering.
PID function
There are two pid functions ready for work
PID (1):
The first function (1) corresponds to the analog input 1 and coupled to the analog output 1.
Analog Input 1 (0..20 mA) clamp VA0
Analog output 1 (0..10 volt) clamp VO0
(0..20 mA) clamp AO0

PID (2):
The second function (2) corresponds to the analog input 2 and coupled to the analog output 2.
Analog Input 2 (0..20 mA) clamp VA1
Analog output 1 (0..10 volt) clamp VO1
(0..20 mA) clamp AO1

We use this algorithm for the pid function:


Where:
Kp = Proportional gain parameter
ε = Offset
Kd = Derivative gain parameter
Td : Constant differential time
Ti : constant integral time

To enable the function pid write:
Starts/Stop the PID function
pManager.setPidStatu(function, value);
Parameters:
**function Specifies which function to start/stop: 1 or 2
**value True to start, false to stop

To change the value of set point write:
Set the Pid Set Point
pManager.setPidSetPoint(function,Value);
Parameters:
**function Pid function to consider
**value Set point to set

To setting all parameters of function PID write:
Set Pid parameters
pManager.setPidParameters(function,direction,kp,ki,kd,ts);
Parameters:
function Pid function to consider (1 or 2)
**direction Movement direction (0 or 1)
**kp Proportional gain parameter
**ki Integral gain parameter
**kd Derivative gain parameter
**ts Ts sampling time (ms)
PWM function
A dedicated PWM function will be published soon.
Pictures
Technical Drawings
Hardware Interface
Ethernet interface
The pLtouch supports the Ethernet interface, using the DM9000CEP fast Ethernet controller.

Earphone interface
The onboard earphone jack provides audio output to earphone or power amplifier.

SD card slot
The pLtouch provides two SD card slots, as shown in the picture above, the left one for SDIO channel 3, the right one for SDIO channel 2. Note that the SDIO channel 0 has been used for inand, therefore, when starting-up from SD card, the card SHOULD be inserted into the right slot, otherwise the start-up will fail.
USB HOST Interface
The pLtouch provides 4 USB channels, supports USB devices such as mouse, keyboard, USB WIFI, USB Bluetooth, USB 3G, etc.
RTC battery
The backup battery is used to keep RTC working when power down.
HDMI interface
Supports HDMI output via the onboard mini HDMI interface and an additional mini HDMI cable. Audio/Video signals can be presented on terminal devices which support HDMI1.3 protocol.
Loudspeaker
The pLtouch supports external loudspeaker via onboard pin header.
FAQ
Please take a look at Ltouch/Pltouch customers' frequent asked questions concerning:
A dedicated FAQ section specific to the Pltouch I/O pins will be published soon.
Tutorials
The Pltouch is an Android-based HMI with an additional set of I/O ports. In the following link you can get the most frequent Android related tips you might need while using the product:
External Links
Licensing
This documentation is licensed under the Creative Commons Attribution-ShareAlike License 3.0