Ltouch10 Single board PC
From Biemme Italia Wiki
Introduction
Digital I/O ports that can be used directly from within your Java code. The performance of the new Quad Core Cortex-A9 with dynamic frequency scaling from 400M Hz to 1.4G Hz allows to use this product in many situations where precision, reliability and efficiency are needed.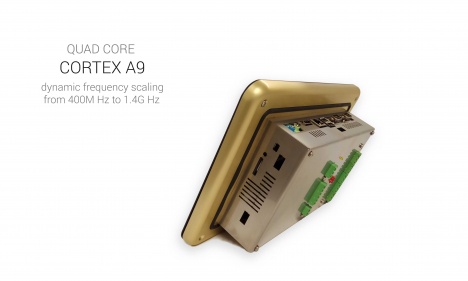 The Ltouch10 102 is an HMI with a 10.1" capacitive touch screen, running Android 5.1 and with additional
The board can be easily used in many fields, from industrial to home automation, from prototyping ideas to concrete projects.
Safety guide lines
Read carefully the safety guidelines and programming instructions contained in this manual before using/ connecting the device. Disconnect power supply before proceeding to hardware settings or electrical wirings. Only qualified personnel should be allowed to use the device and/or service it and in accordance to technical data and environmental conditions listed in this manual. Do not dispose electric tools together with household waste material. In observance European Directive 2002/96/EC on waste electrical and electronic equipment and its implementation in accordance with national law, electric tools that have reached the end of their life must be collected separately and returned to an environmentally compatible recycling facility.
Technical Specifications
Hardware Specification

Power supply: 24 Vdc
5 Digital Inputs PNP 24Vdc on board
5 RElay Oututs (5A 30Vdc - 5A 230Vac) on board
RS485 : Modbus RTU Protocol on board
SealingFront panel: IP54 , Box and Terminal bloks: IP20
Operating temperature 0~45°C
Humidity 35..95 uR% (non condensing)
Front panel: aluminium ; Box:stainless steel AISI 304
Weight : Approx. 1800 gr

Display

DIMENSION:10.1 inch diagonal
RESOLUTION : 1280 X (RGB) X 800
DISPLAY MODE : Normally black, Transmissive
LIGHT SOURCE: 6 LEDs in series w/6 parallel
DISPLAY NUMBER OF COLORS:16.2 M
SURFACE TREATMENT : AG

MCU

Samsung S5P4418 Quad Core Cortex-A9, with dynamic frequency scaling from 400M Hz to 1.4G Hz
PMU Power Management Unit: AXP228. it supports software power-off and wake-up functions.
DDR3 RAM: 1GB 32bit DDR3 RAM
Ethernet: Gbps Ethernet(RTL8211E) with unique MAC Internal 1000/100/10M Ethernet
eMMC: 8GB
Audio: 1 x audio codec chip, 1 x onboard Microphone and 1 x audio jack
Power: DC 24V, up to 1.2A
Onboard WiFi & Bluetooth
Pop-up MicroSIM card slot
Onboard porcelain antenna
HDMI INTERFACE: 1 x HDMI A Type, HDMI 1.4a (Smart4418) 1080p30 video output
2 x 3-wire serial port, DB9 male connector
2 x USB A, brought out from USB 2.0 hub, (USB 1.1 compatible)
1 x Micro USB, data communication only
Internal Audio, supports audio recording and play 3.5mm audio jack and MIC onboard Microphone
RTC : Onboard RTC battery(CR1220)
1 x PWM buzzer
I/O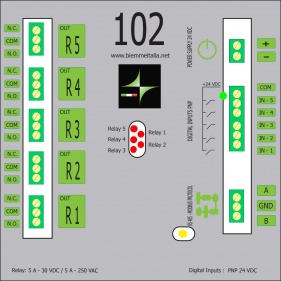 5 Digital Inputs PNP 24 Vdc
IN1: Inputs 1
IN2: Inputs 2
IN3: Inputs 3
IN4: Inputs 4
IN5: Inputs 5
5 Relay Outputs
5A 30 Vdc
5A 230 Vac
R1 : Outputs 1 With exchange contact
R2 : Outputs 2 With exchange contact
R3 : Outputs 3 With exchange contact
R4 : Outputs 4 With exchange contact
R5 : Outputs 5 With exchange contact
RS485 MODBUS RTU PROTOCOL
A: RS485 +
GND: GND for Modbus RTU
B: RS485 -
Select modbus baud-rate through internal register:
2400 baud.
4800 baud.
9600 baud.
19200 baud. (Default)
28800 baud.
38400 baud.
57600 baud.
API Guide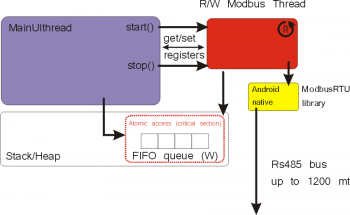 This panel is also designed to deal with modbus requests through RS485 under Android. To do so, you simply load our modbus native library in your Android project and call the functions available.
Even though you can design your Android application in many different way, we suggest to follow a skeleton of an hypothetical application that deals with modbus requests. This could be very useful if you need performance and order in the way commands are executed. This example make use of the power of Java threads.
The architecture of this Android app is described in our modbus library section. You will also find a FAQ section where we answered the most frequent questions our customers ask.
If you are interested in using the modbus TCP in our home or industrial application, take a look on how to use it with our Ltouch tablets. See how the modbus TCP communication works.
Dimensions:
Settings:
By moving the switch you can assign the boot  : Caution : use only for boot new O.S.

Switch left : From SD

Switch Right: From eMMC
---
By moving the switch you can power off Ltouch10 102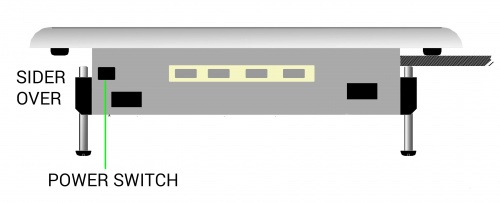 ---
Push the button for reset O.S.