Install the Android USB Driver for the Ltouch
From Biemme Italia Wiki
Linux/MacOS
No need for special usb drivers. Just use the mini-usb cable and plug the Ltouch.
Windows
Windows operating systems needs USB drivers in order to connect to the Ltouch. In general, in our website's support section (under /tools/USB driver) you will find a file named ltouch_android_driver.rar containing the USB driver for the Ltouch F, Ltouch FW, Ltouch S and Ltouch SW.
Just extract the archive's content in a temporary folder. You can now connect the Ltouch to the PC through the mini-usb cable. Once prompted for installing the driver, specify the location where the previous driver has been extracted.
Sometimes, Windows is not able to automatically find the android_winusb.inf file even though it exists. In that case, you need to manually install the driver (more info). This is accomplished by skipping all the automatic searches for drivers and to manually specify the android_winusb.inf file. Once selected, the following window will pop up: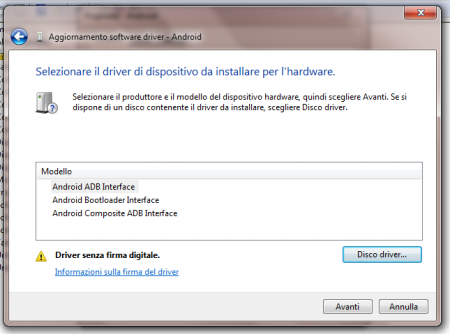 Select "Adb Android Interface" and if the compatibility window will be displayed, just press "OK/continue".
Windows 8 should not be supported yet.
If any of the previous suggestions do not help you, try to:
Download and install the Goose OEM USB drivers (supported systems 7, xp, vista), or
Use another Windows version like for instance 7 or XP in a virtual machine such as VirtualBox.